Speakers Bureau View
21
Profile Views -
31
Presentation Views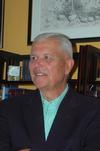 Florida International University
Connect
Innovation and entrepreneurship

Audience:
Adults
Description:
An introduction to the concepts of innovation and entrepreneurship with practical hands-on experiential learning of tools and best practices.
Subject Areas:
Business Administration
Computer Science
Education
Engineering
Technology
Keywords:
cases
commercialization
entrepreneurship
innovation
vision
Duration:
full day
Fee:
Greater than $500
Comments:
Talk can be from one day to one week with pricing adjusted accordingly. Talk can also be given to high school students at a lower fee.